Las células madre adultas, eficaces en el tratamiento de la enfermedad vascular periférica
Este hallazgo forma parte de una investigación de la Clínica Universitaria de Navarra, el CIMA y la Universidad Católica de Lovaina (Bélgica)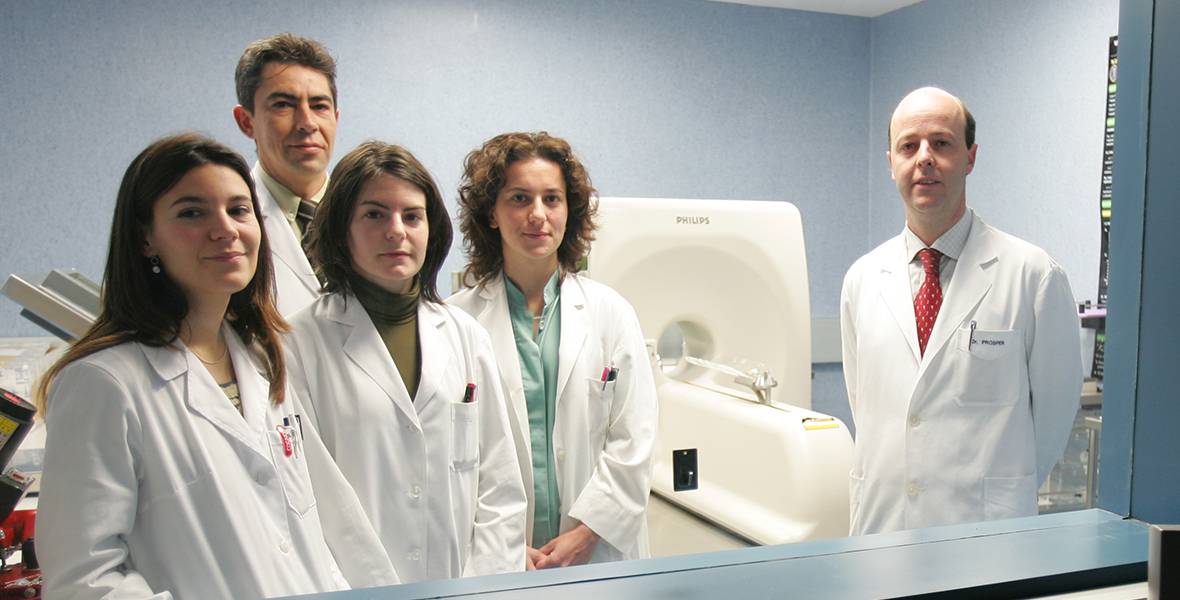 Una investigación realizada en la Clínica Universitaria de Navarra, el CIMA de la Universidad de Navarra y la Universidad Católica de Lovaina (Bélgica) ha demostrado que un tipo de células madre adultas procedentes de la médula ósea resulta eficaz para tratar la enfermedad vascular periférica.
Esta dolencia consiste en la obstrucción de la circulación sanguínea en una parte del organismo. Como consecuencia, se tapona la arteria que la irriga y puede desembocar, por tanto, en necrosis de tejidos, gangrenas e incluso la pérdida de la extremidad afectada.
En general, la enfermedad provoca pérdida de vascularización y musculatura en la parte dañada, problemas en los que se ha centrado el estudio realizado por los tres centros. "Nuestro objetivo -aclara Felipe Prósper, director del área de Terapia Celular de la Clínica Universitaria y del CIMA- ha consistido en comparar la actividad de dos poblaciones distintas de células madre en la regeneración de los tejidos vascular y muscular". Por un lado, el especialista explica que utilizaron células MAPC, capaces de proliferar y diferenciarse en múltiples tejidos; y por el otro lado, células mononucleadas, que incluyen células madre y células ya diferenciadas.
Según afirma el facultativo, "el resultado obtenido demuestra que las células madre adultas no diferenciadas son más eficaces que las mononucleadas, ya que contribuyen a aumentar la cantidad de arterias y venas que se generan en el nuevo tejido, al tiempo que mejoran la regeneración del músculo". En cambio, cuando las células transplantas ya han sido prediferenciadas los especialistas han descubierto que a largo plazo aumenta la fibrosis en los tejidos tratados. Por ello, advierten de que es necesario ser precavidos en la utilización de células mononucleadas de médula ósea para esta aplicación.
Células humanas y de ratón
Asimismo, el trabajo de los tres centros también analiza los mecanismos que contribuyen a la capacidad regeneradora de las distintas fuentes celulares, al mismo tiempo que estudia en detalle su capacidad de injerto.
En la investigación se utilizaron poblaciones celulares procedentes de humanos y de ratones. En ambos casos, el doctor Prósper asegura que obtuvieron el mismo grado de eficacia, "lo que significa que los cultivos utilizados son solapables: consiguen idénticos beneficios".
Estos hallazgos se han publicado recientemente en la revista The Journal of Clinical Investigation. El primer autor del artículo es Xabier López Aranguren, doctor en Biología de la Clínica Universitaria y del CIMA de la Universidad de Navarra, y las conclusiones de la investigación forman parte de una línea de análisis abierta a partir de su tesis doctoral.