El aumento en sangre de una proteína se asocia con daño cerebral en el ictus isquémico
Investigadores del CIMA y del Hospital Clínico Universitario de Santiago de Compostela demuestran que la proMMP-10 predice peor pronóstico en el infarto cerebral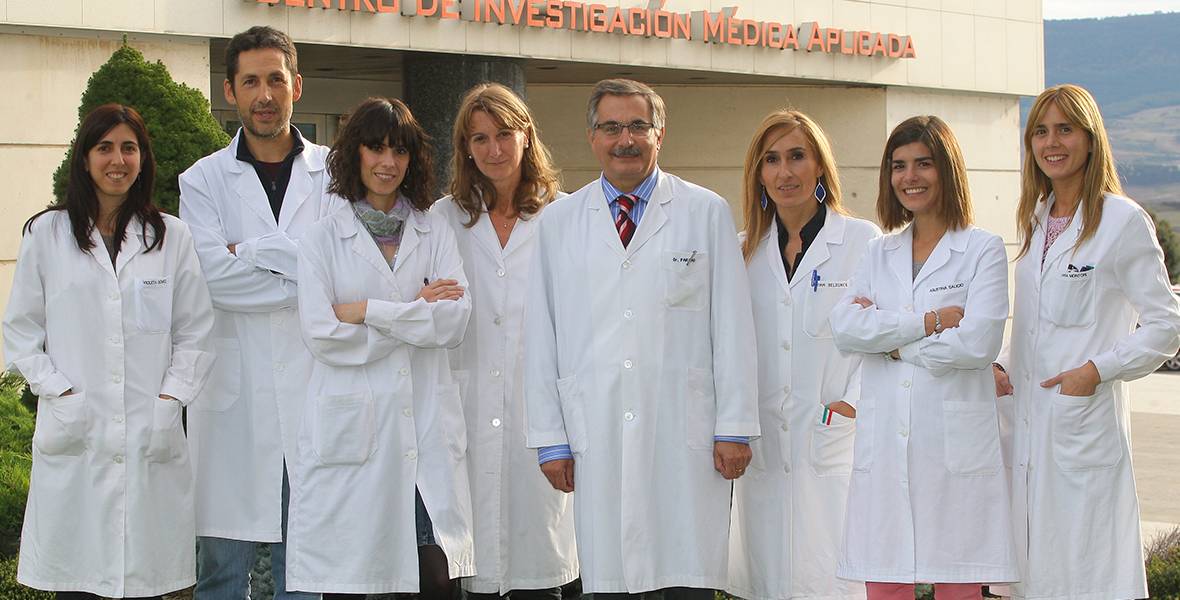 Científicos del Centro de Investigación Médica Aplicada (CIMA) de Universidad de Navarra y del Hospital Clínico da Xerencia de Xestión Integrada de Santiago de Compostela han demostrado que el aumento de una proteína de la sangre, la prometaloproteasa-10 (proMMP-10), indica un mayor daño cerebral tras un ictus. Además, predice un peor pronóstico funcional a medio plazo. El trabajo, publicado en la revista Journal of Thrombosis and Hemostasis, ha recibido una mención especial en el XXVI Congreso Nacional de la Sociedad Española de Arteriosclerosis, celebrado en Zaragoza.
Las metaloproteasas (MMPs) son un grupo de proteínas que, además de muchas otras funciones, participan en la lesión del tejido durante el ictus, y en el remodelado neurovascular. "En un trabajo anterior demostramos que una de estas proteínas, la proMMP-10, está aumentada en la aterosclerosis. A continuación, buscamos su implicación en pacientes con ictus isquémico agudo", explican los doctores José A. Rodríguez y Tomás Sobrino, investigadores del CIMA y del Hospital Clínico Universitario de Santiago de Compostela, respectivamente, y coautores principales del trabajo, que se ha realizado en colaboración con la Clínica Universidad de Navarra.
El estudio incluyó pacientes con ictus isquémico que recibieron tratamiento trombolítico (para disolver los coágulos) y se compararon con otros pacientes con ictus isquémico que no recibieron dicho tratamiento, y con sujetos asintomáticos. En ellos se valoró la gravedad del ictus, se diagnosticó por TC el desarrollo de hemorragias intracerebrales y edema cerebral grave y se determinó la concentración de proMMP-10 y otros marcadores inflamatorios.
Tras un periodo de seguimiento de los pacientes de 3 meses, los investigadores comprobaron que la concentración de la proteína proMMP-10 en pacientes con ictus isquémico agudo fue muy superior a la de los pacientes sanos. "El aumento de los niveles de proMMP-10 se asocia con un mayor volumen de infarto, con la aparición de edema cerebral grave, con un mayor deterioro neurológico precoz (en las primeras 72 h) y con peor pronóstico funcional a los 3 meses, aunque no se relacionó con la aparición de hemorragias. Los niveles circulantes de esta proteína también se asociaron con un marcador y agente inflamatorio, el TNFα. Por lo tanto, el incremento de la proMMP-10 tras el ictus isquémico agudo puede ser un nuevo marcador de daño cerebral y mal pronóstico funcional".
Los investigadores van a continuar esta línea de trabajo estudiando los mecanismos moleculares que relacionan la proMMP-10 con el ictus isquémico, para averiguar si esta proteína puede participar en los procesos de daño y de recuperación tras el ictus, una de las principales causas de mortalidad y discapacidad en nuestro medio.