El Dr. Jesús San Miguel recibe el premio internacional Michaeli por su contribución al conocimiento del mieloma
El director médico de la Clínica Universidad de Navarra y de medicina clínica y traslacional de la Universidad ha sido galardonado en el marco del Congreso Internacional de Enfermedades Hematológicas "Linfoma y Mieloma" celebrado en Nueva York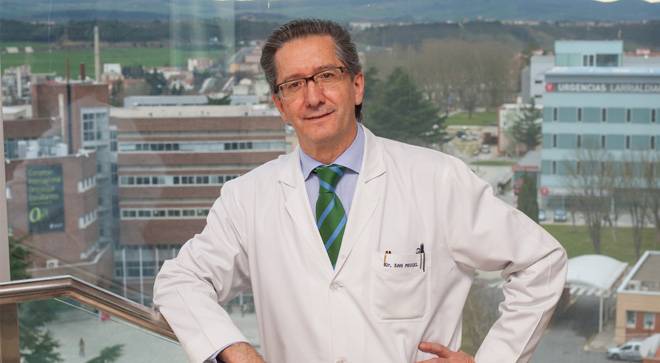 El Dr. Jesús San Miguel, director médico de la Clínica Universidad de Navarra, ha recibido el premio "The Michaeli Award" por su contribución al conocimiento del Mieloma. El acto de entrega del galardón tuvo lugar el pasado jueves 18 de octubre en Nueva York, a las 16:30 horas, en el marco del Congreso Internacional de Enfermedades Hematológicas "Linfoma y Mieloma". El reconocimiento ha sido concedido por la Weill Cornell University y la SASS Foundation for Medical Research Award en honor al Dr. Joseph Michaeli, fallecido en 2001.
El Dr. Michaeli fue profesor de Medicina y director del Servicio de Mieloma Múltiple primero en el Memorial Sloan-Kettering Cancer Center y después en el New York Weill Cornell University. Fue también director de Investigación del Weill Cornell´s Center of Excelence for Lymphoma and Myeloma.
Para el Dr. San Miguel, este premio "representa un honor por el nombre de la persona al que va unido, un médico que aunaba los atributos de nuestra profesión: máxima dedicación, afán por estar al día, sentimiento de insuficiencia y máxima entrega al enfermo".
Experto en mieloma múltiple
El Dr. Jesús San Miguel es director médico de la Clínica y director de medicina clínica y traslacional de la Universidad de Navarra. Especialista en Hematología, su desarrollo profesional se ha dirigido al estudio del mieloma múltiple, la biología de las células leucémicas y sus implicaciones clínico-pronósticas, la enfermedad mínima residual y los trasplantes hematológicos.
Entre los diferentes premios y distinciones que ha recibido el Dr. San Miguel, miembro de CIBERONC, figuran el premio Rey Jaime I de investigación médica (2013) y el premio de la Fundación Lilly de Investigación Biomédica (2014). Al mismo tiempo, el Dr. San Miguel ha sido miembro del Comité Científico asesor del Centro Nacional de Investigaciones Oncológicas (CNIO) y del comité editorial de numerosas publicaciones científicas.