EE. UU. publica una investigación de la Universidad de Navarra que puede mejorar la cirugía y el trasplante de hígado
Los hallazgos, protegidos por una patente del CIMA Universidad de Navarra, aparecen en la revista científica "The Journal of Experimental Medicine"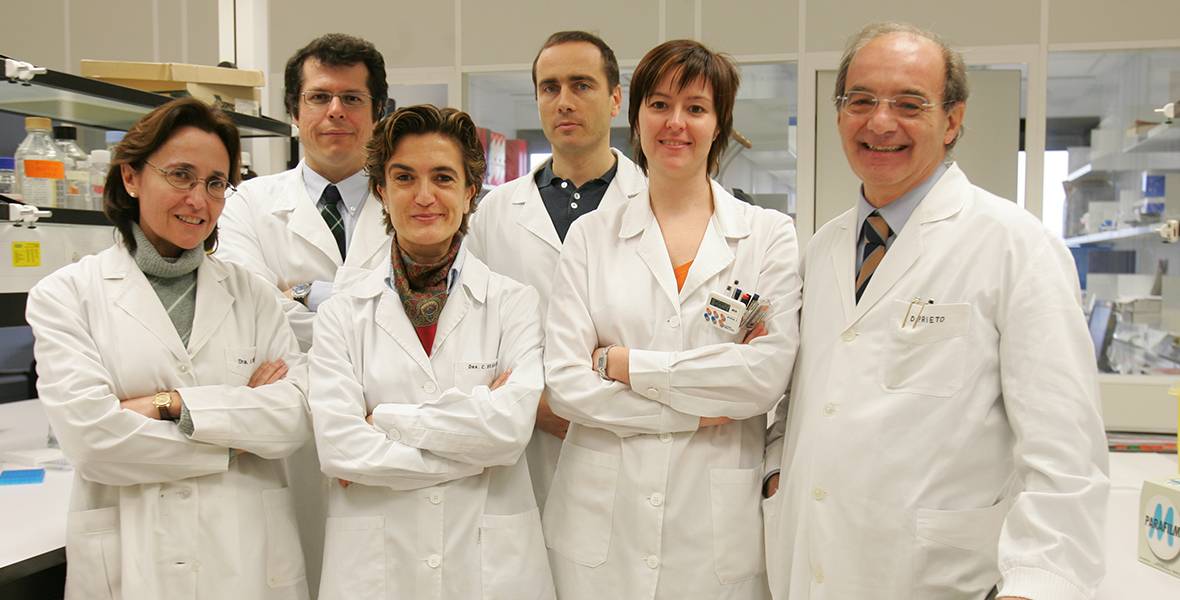 The Journal of Experimental Medicine, revista científica de EE. UU. con gran impacto en el ámbito biomédico internacional, acaba de publicar una investigación de la Universidad de Navarra. Se trata de los hallazgos de un equipo de especialistas de la Clínica Universitaria y el Centro de Investigación Médica Aplicada (CIMA). Han descubierto que el hígado libera una sustancia llamada cardiotrofina-1 cuando sufre una agresión; por ejemplo, al interrumpirse el flujo sanguíneo. Los científicos comprobaron la potente acción protectora de la cardiotrofina-1 sobre el hígado: cuando se administra en animales, este órgano queda protegido y puede soportar una interrupción prolongada del suministro de sangre sin sufrir daño.
El Dr. Jesús Prieto contempla repercusiones de estos resultados en la práctica médica. Entre otras posibles aplicaciones, el tratamiento con cardiotrofina-1 a pacientes que van a someterse a trasplante hepático o resección parcial del hígado protegería al órgano durante la intervencion y podría mejorar los resultados de la cirugía. "La administración de cardiotrofina-1 antes de la operación permitiría realizar resecciones hepáticas más extensas de las que hoy se practican y, por tanto, acometer intervenciones quirúrgicas en pacientes con tumores que no se pueden extirpar debido a su extensión".
Más órganos para trasplantes y menos riesgos para donantes
La cardiotrofina-1 también podría reducir los riesgos de complicaciones posoperatorias en el trasplante de donante vivo. "En el trasplante de cadáver el tratamiento haría posible conservar el órgano en buen estado durante periodos de tiempo mayores. Además, permitiría utilizar hígados no idóneos que, por ser muy susceptibles al daño durante la intervención, no son seleccionables para el trasplante. Todo esto redundaría en un aumento de la disponibilidad de órganos para los pacientes que precisan uno nuevo", según el Dr. Jesús Prieto.
Otros científicos extranjeros identificaron hace tiempo la cardiotrofina-1 como una citoquina producida por células del corazón. Los estudios realizados en el CIMA de la Universidad de Navarra muestran ahora que esta sustancia se elabora también en el hígado, sobre el que ejerce potentes efectos protectores. Los autores de este trabajo científico publicado son los doctores María íñiguez, Carmen Berasain, Eduardo Martínez-Ansó, Matilde Bustos, Diane Pennica (en California) y los directores del equipo, Matías ávila y Jesús Prieto. En 2006 la Agencia Europea del Medicamento aprobó esta patente del CIMA como medicamento huérfano. Digna Biotech, empresa de biotecnología que desarrolla los descubrimientos del CIMA, tiene la patente de uso de la cardiotrofina-1 en enfermedades hepáticas. Próximamente iniciará los ensayos clínicos de esta sustancia en pacientes sometidos a cirugía.