Spanish researchers identify a key gene in the development and treatment of the most common pancreatic cancer
Researchers at the Cima Universidad de Navarra confirm that its inhibition and its combination with existing drugs increase the antitumor effect in 3D models derived from patients.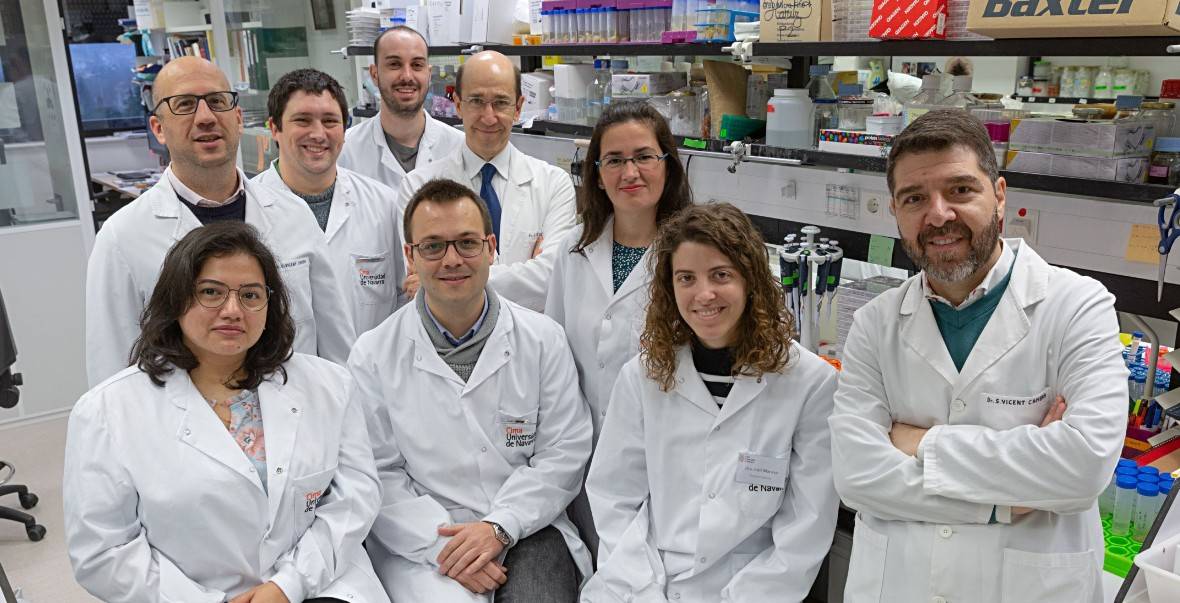 Pancreatic adenocarcinoma accounts for 85% of diagnosed pancreatic tumors. It is associated with a dismal prognosis, due to its late diagnosis and resistance to most available treatments. Therefore, it is essential to understand the cellular and molecular mechanisms involved in this type of pancreatic cancer in order to develop more effective therapeutic strategies.
Researchers at the Cima Universidad de Navarra have identified an important gene in the development of pancreatic adenocarcinoma. Their study in human samples and experimental models guides the development of possible therapeutic strategies for patients with this disease. The results of this work have been published in Clinical Cancer Research, a reference journal in the field of oncology.
"This pancreatic cancer is characterized by multiple genetic alterations, including the KRAS oncogene. In previous studies we described a gene signature common to tumors of the lung, pancreas, colorectal cancer and cholangiocarcinoma, which included the LAMC2 gene. In this work we have studied its function in pancreatic adenocarcinoma and confirmed that it is increased in early stages of tumor development and in established tumors. Likewise, LAMC2 has a relevant role in the proliferation and growth of this cancer, both in three-dimensional conditions and in vivo", explains Dr. Silve Vicent, researcher of the Solid Tumors Program at Cima and co-director of the study.
Moreover, the study shows that deletion of the gene significantly reduces tumor growth, thus presenting itself as a possible therapeutic target for the disease.
Combined treatment
By analyzing the molecular mechanisms of LAMC2, the researchers have shown that it performs its function through genes that are amenable to a pharmacological approach, such as AXL. "To increase the success of a potential treatment we combine inhibitors of this gene with other therapies that have been tested in clinical trials in pancreatic cancer (MEK inhibitors). We see that this combination is effective in 3D cultures derived from patient and mouse tumor sample."
The next step will be to identify the patients who could best benefit from this combination according to their molecular characteristics. "A project of this type can serve as a preclinical basis to try to advance in its clinical application and encourages us to continue in this line to propose a study with this combination in patients with pancreatic cancer," says Dr. Mariano Ponz Sarvisé, a specialist in Medical Oncology at the Clínica Universidad de Navarra, a researcher in the Solid Tumors Program at Cima and co-director of the study.
The team is part of the PRECODE Consortium (Pancreatic Cancer Organoids Research), the CIBER de Cáncer (CIBERONC) and the Instituto de Investigación Sanitaria de Navarra (IdiSNA), and has had collaborators from the University of Verona (Italy), Essen (Germany) and Umea (Sweden),
The study has received public and private funding, mainly from the Instituto de Salud Carlos III and the María Eugenia Burgos de la Iglesia Grant, promoted six years ago by a family from Navarra to support pancreatic cancer research.